8 Data Center Energy Consumption Trends You Need To Know
Did you know that the data center industry accounts for 3% of global electricity consumption and is expected to hit 4% by 2030?
Due to rising energy costs and increased public pressure around the environmental impact of data centers, many of today's organizations have launched corporate sustainability initiatives and data center professionals are cracking down on energy usage to support those goals.
Here are the top eight data center energy consumption trends that you should consider implementing in your data center to save energy and reduce costs:
Increased use of renewable energy sources. Many companies are implementing more sustainable energy sources in their data centers to go green. For example, Apple partnered with NV Energy to build a solar farm that provides 200 MW of renewable power to their Reno, NV location. Up to 5 MW of this solar power can be used by residential and commercial customers as well. Another example is Facebook who announced they wanted to operate on 100% renewable energy sources. At their Papillion, Nebraska site they created a windfarm of 101 turbines across 55 square miles to generate 310 MW of power. Facebook has also gone a step further to improve their footprint by installing a machine learning model that will monitor, predict, and optimize efficiency based on seasonality, weather, and IT capacity, along with hyper-efficient servers that can operate under high temperature environments. In Iceland, Verne Global has found a way to power their location by geothermal steam and hydroelectric from glacial rivers. It only uses 10% of the available power capacity on its systems and has a low temperature that allows for free air cooling 365 days a year. These methods have reduced energy consumption, costs, and carbon footprint dramatically with more companies following suit.
Increased use of liquid and immersion cooling. Rack densities are increasing and traditional, energy-intensive methods of air cooling with CRAC/CRAH units cannot remove the large amount of heat generated by high-performance compute devices. This results in not being able to utilize all the space in a rack. In recent years, more efficient cooling innovations like liquid and immersion cooling have been increasingly leveraged to solve this problem. Liquid is a better conductor of heat than air and is able to target specific server components allowing for more savings on energy consumption and operating costs. Data center liquid cooling is the process in which a liquid coolant is used to remove heat from server components, and it is a very efficient method. This has become one of the quickest growing innovations in the industry as there are multiple different kinds of liquid cooling. This includes immersion cooling which is when server components are submerged in a dielectric coolant that has a high coefficient of heat rejection and low thermal resistance. Traditional air cooling methods require lots of energy to work properly which drives up costs. Implementing these newer cooling methods can benefit your data center's sustainability, energy efficiency, performance, and utilization of space. They also require less water and energy overall and that lead to better support for higher rack densities and a more compute capacity in a smaller footprint.
Data center temperatures are on the rise. On average, 37% of the energy consumed in the data center is for moving and cooling air. ASHRAE recommends that temperatures at the server intake should be anywhere between 65-80°F, but traditionally many data centers operated on the low end or even below those guidelines in fear of overheating equipment and causing downtime. However, overcooling equipment only wastes energy and money. For every 1° F you increase the temperature, you can save 4-5% in energy costs without risking downtime. Now, many data center managers are increasing temperature set points without introducing any risk with temperature sensors and DCIM software. DCIM makes it easy to stop overcooling by closely monitoring sensor data and turning it into actionable insights. You can see which cabinets in your data center are operating outside of the ASHRAE range, view 3D thermal time-lapse videos to easily identify hotspots, and set automatic threshold alerts when a cabinet starts to get too cool or warm.
More data center consolidations. More organizations are reducing energy consumption by consolidating your data center. Whether it's by downsizing the equipment in a single room or by eliminating multiple data center sites, this can greatly reduce your overall footprint and boost efficiency. As some data center workloads migrate to the cloud, this reduces the amount of physical space needed. Consolidating and right-sizing into less space reduces the cost of operating redundant systems, procurement fees, software licensing costs, and maintenance costs. Consolidations can be risky, and it is important to keep an accurate inventory, build out your new space before the move, and track all changes to ensure equipment is installed correctly.
Increased utilization of existing resources. Since building new data centers requires more energy and carbon emissions, data center managers are tasked with getting more out of their existing resources. A massive step in getting more out of what you already have in your data center is recovering stranded capacity. Leading data center managers are using intelligent rack PDUs and DCIM software to automate device power budgeting by calculating an accurate power budget number for each device instance based on how they are used in the data center. With these values, data center professionals can safely deploy more servers in their existing cabinet resources. Comcast used this feature to get 40% more utilization out of their facilities. Additionally, DCIM helps to identify ghost servers which are servers physically running in your facility but serving no useful function. Up to 30% of the servers in a data center may be ghost servers. Decommissioning them reduces energy costs and frees up rack space, power, cooling, and network connectivity that can be used for new deployments.
Increased use of modular data centers. The modular data center industry is growing exponentially and is expected to hit an 89 billion USD value by 2030. Modular data centers are designed to offer a flexible and efficient alternative to the traditional data center design by reducing deployment time and increasing scalability and energy efficiency. Modular data centers are individual modules or containers that can be stacked together to create a larger data center. They can then be shipped to a site pre-assembled which decreases the time required for physical on-site installation as well as relocated. Since modular data centers don't require a full building to be constructed, they can positively contribute to sustainability and energy efficiency. However, having many modular data centers does present a need for a comprehensive remote data center management strategy. 
Increased virtualization of servers. Companies today have large estates of servers, some being older and less efficient than others. When operating your data center like a cloud in a virtualized environment, some virtual instances may differ in performance efficiency based on the physical servers they're on. Data center managers are increasing energy efficiency by automating and optimizing virtual machine management by integrating DCIM software with VMware. By knowing which physical servers VMs are running on, and using this information to move virtual instances to the most efficient servers first, data center professionals are saving on energy costs.
Increased DCIM deployments to support sustainability initiatives. As governmental regulations, industry regulations, and customer demand pressure data centers  to reign in their energy consumption, data center professionals are turning to DCIM software to intelligently reduce energy consumption and comply with sustainability initiatives. DCIM enables data center managers to measure energy consumption and make more informed decisions, track energy KPIs like Power Usage Effectiveness (PUE) in real-time, create billback reports to facilitate more efficient behaviors, avoid overcooling, identify ghost servers and power-hungry equipment that should be replaced, intelligently consolidate and virtualize resources, and feed data into corporate sustainability reporting.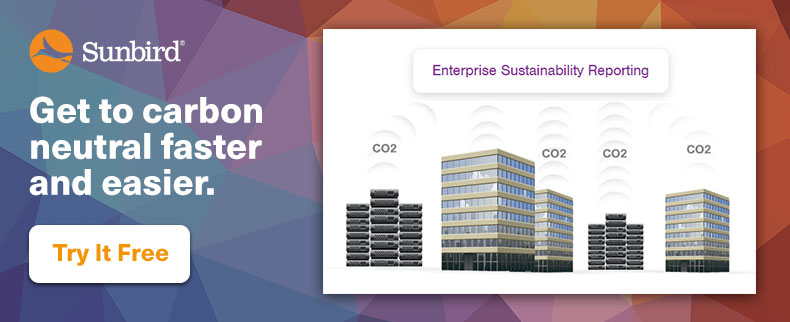 Bringing It All Together
Don't let time slip away before you get started on improving energy efficiency and sustainability. Data center managers are ramping up efforts to become carbon neutral and reduce energy usage as much as possible. Strive for success by implementing these data center energy consumption trends in your data center.
See how Sunbird's world-leading DCIM software can help you reduce energy consumption in your data center. Get your free test drive now.